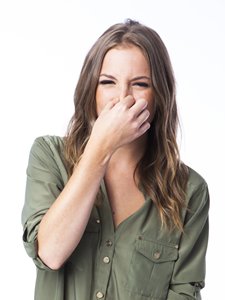 UNO. My INSANE sense of smell during this fourth pregnancy

is driving me and my hubby crazy. My snooze is so sensitive that every room I walk into seems to have taken on a distinct smell and I feel like I can smell each member of family a mile away.
The "saddest" part though is that my little "mothers", daughters Lilli and Lacey, have seemed to take on "sympathy heightened smell syndrome" (my wonderfully made-up diagnosis). Just this morning, I overheard them responding to their Daddy (after he had just stepped out of the shower and was dressed in dry-cleaned clothes, smelling like Cool Water) in the same (overly dramatic) way I have been for the past few months, "Dad, your breath smells! Your shirt smells! You smell! Agh!" The girls have been hearing me talk this for months. I obsessively change our bedding and towels and can't stand the smell of day-old food. I've always LOVED the smell of my hubby...but lately? We will just leave it at that!
"See what you've created!" my hubby teased. "They are turning into you at the age of 5 and 7!" We all burst out laughing.
I found this article a few days ago - thank goodness an alien hasn't really taken over my olfactory glands like I suspected...take a peek....
http://www.pregnancymagazine.com/pregnancy-news/pregnancy-health/why-do-pregnant-women-have-a-bionic-sense-of-smell/
DOS-This week's family prayer at our house -
Give Us, O Lord, a Steadfast Heart
Give us, O Lord, a steadfast heart,
Which no unworthy affection may drag downwards;
Give us an unconquered heart,
Which no tribulation can wear out;
Give us an upright heart,
Which no unworthy purpose may tempt aside.
Bestow upon us also, O Lord our God,
Understanding to know you,
Diligence to seek you, wisdom to find you,
And a faithfulness that may finally embrace you;
Through
Jesus Christ
our Lord.
TRES- Date Night with Hubby
Girls, my hubby and I made it FIVE FRIDAYS in a row out on our date night! Tonight, regardless of a bout with pink eye, stomach bug and a run of pre-term contractions we will be back "at it" again. When is the last time you got a sitter (and moved mountains) for a date night? Make it a priority!
QUATRO- Marinating each day in the truth of God's Word
CINCO- LOVE LOVE LOVE THIS!
My girls can't get enough of watching each frame and pointing out what's different. What a beautiful way to have the words of timeless hymns waffle through our kitchen as I cook dinner.
SIETE - Can't agree on baby names yet...
but here are some cute ideas.
Uber-popular girl names include
Abigail
,
Brianna
,
Carly
,
Cheyenne
,
Emily
,
Hailey
,
Kaitlin
,
Olivia
,
Paige
,
Reagan
and Sarah.
The trendy boy names are
Alexander
,
Caleb
,
Hunter
,
Jacob
,
Jonathan
,
Joseph
,
Landon
,
Noah
,
Trenton
and
Tyler
.